When Aoife met U2
Every tour brings precious memories to people, and one of the nicest stories we heard towards the end of the tour involved a girl called Aoife Lambert, "Ireland's Biggest and Youngest U2 fan". Her desire to meet the band spread across social media, local media, and eventually reached the attention of U2 themselves. As part of our In conversation with series we reached out to Aoife's father, Kieran, and he put us in contact with his daughter so she could tell us her story. If you'd like to tell us your story, drop us a message on Twitter or by email.
Hello. My name is Aoife. I am 11 years old and a MASSIVE U2 fan. As some of you may know, they played in Dublin at the 3Arena in November and I got tickets to go and see them. I was delighted. It was about two weeks until the concert and my Dad came up with a crazy idea to make a video to see could we meet U2. It was an idea I wasn't sure would work but it was worth a shot. We made the video and posted it online to Youtube, Facebook and Twitter. In at least 20 minutes we had many responses from many famous people in Ireland. All responses were alike (Good luck Aoife!) but none from the band. The next day when I was picked up from school I was told I had an interview with both The Westmeath Examiner and Midlands Radio 103. I was so excited. The interviews were great fun.
Soon the morning of the concert came. We still had no word or anything about meeting U2, so as far as I was concerned I was going up to Dublin to enjoy the gig. I couldn't wait. I was taken out of school early to go to Dublin. While I was getting ready, Mammy took a phonecall from The Westmeath Examiner who a few minutes later sent an email asking for Daddy's contact details. I was on the way into Mullingar to get something to eat before we left for Dublin. I was in the car with Mammy and we got a text from Daddy saying "we've been invited to a pre-drinks party for friends and family of the band." I was so excited.
When we got to Dublin, we went to the Gibson Hotel to talk to the Twitter Manager because he helped us out a lot with re-tweets. We told him we had been invited to the party but he told us U2 weren't going to be there. We couldn't believe it. My heart sank. We went dowstairs to collect our passes to the V.I.P. party and there were no passes! Daddy phoned the girl he had been speaking to earlier and she told us what to do. After a while we finally got the passes. We went to the party where we were really well looked after. The food and drink was fabulous. Then a girl came up to us and asked if another woman had phoned us. We said No. She told us to ring her and we did. She gave us instructions to go and wait by the main door. She then came to meet us and brought us to the 3arena…. Backstage!!
We were waiting in a room backstage and next thing Larry walked in. He just sat down and started talking to us. A few minutes later Adam walked in and started chatting, then The Edge and after that Bono came in. It's an amazing thing meeting your idols. My mind just went blank and I couldn't think of anything to say. Bono is a bit mad. I was sitting on the couch and when he came in I stood up to shake hands and he just knocked me back down onto the couch. It was funny. I've learned two things from this amazing experience, (1) Dreams can come true and (2) the power of social media is amazing and can do anything (good or bad). It's a little over two months now since it all happened and I still can't believe it. I have pictures in my room of that day and I still look at them in awe. Dreams really can come true.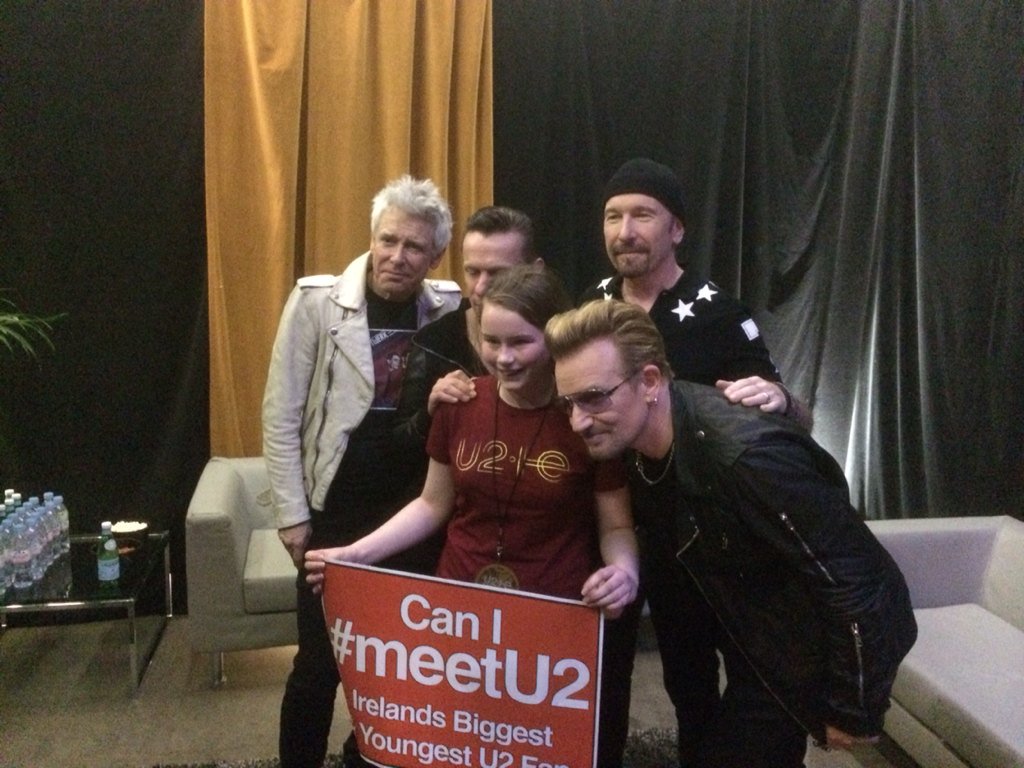 Posted on by Matkin