U2's residency with Jimmy Fallon POSTPONED
It may sound like satire or a parody, but it's unfortunately true: Bono requires surgery after injuring his arm in a cycling accident in Central Park, New York, so U2's forthcoming residency all week on
The Tonight Show With Jimmy Fallon
has been
indefinitely postponed
.
Read a brief letter from Edge, Adam, and Larry on U2.com
here
.
We will keep you updated and hopefully rescheduled dates will be confirmed soon.
If Bono has to perform rescheduled dates and
Almost Acoustic Christmas
with his arm in a sling, it won't be the first time. He dislocated his shoulder during the
20 September 1987
concert in Washington DC. No shows were postponed that time around, but his movement on stage was obviously inhibited for the month he was in the sling. The first show without the sling was on
20 October 1987
in Iowa City and Bono's joy was palpable.
Below is a video of Bono performing "Exit" in Syracuse while wearing the sling on
9 October 1987
. Follow
this link
if you want to watch the entire gig.
Video of U2 at the Bambi Awards
Previously, we
reported
on U2's performance at the Bambi Awards in Berlin and brought you a
picture gallery
from the event. Now it's time for some video.
The video below contains Rea Garvey's introduction of U2, the video montage tribute to them, their performance, and their acceptance of the Bambi for Music International. "Every Breaking Wave" starts at 5:58. Enjoy:
U2 perform at the Bambi Awards
Today, U2 performed in Berlin at the Bambi Awards. They were introduced by Rea Garvey and received the Bambi for Music International. Bono, in his acceptance speech, referred to the recent 25th anniversary celebrations of the fall of the Berlin Wall and reminisced about the band's time in Berlin when the Wall came down.
Before receiving the award, U2 performed "
Every Breaking Wave
". It was done in the same style as previous versions on the
promo tour
, beginning with just Bono and Edge. A string section joined them early in the song, and Adam and Larry came in halfway.
This was U2's last scheduled promo appearance in Europe. They now move on to North America for a residency on Jimmy Fallon's TV show next week. Plenty of rumours are circulating right now about a full tour next year: see
here
for the latest European rumours and
this article
for a summary of other news and speculation.
Our database listing for this concert is
here
. We have
a gallery
of pictures from U2's appearance at the Bambi Awards. Samples are below: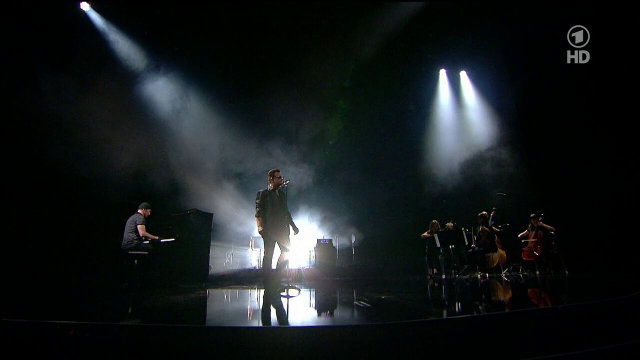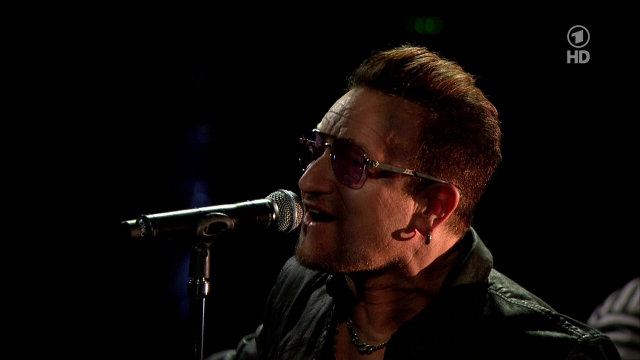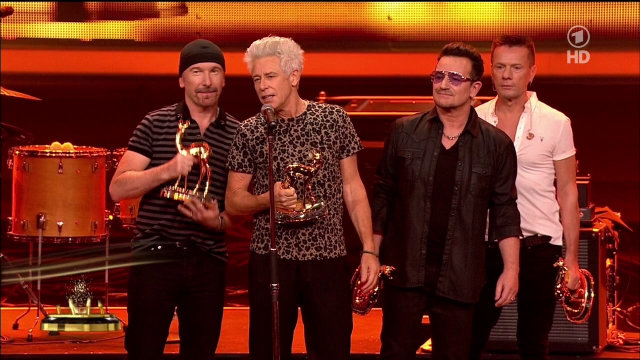 More European tour rumours
Today we can report some new rumours regarding U2's tour next year in Europe, courtesy of the good people at U2Place and U2Valencia.
U2Place
report
(in Italian) a rumour that U2 will begin the European leg of their tour in Turin at the Palasports Olimpico arena. They will rehearse there in late August before playing two or more shows in early September. U2Place go on to state that Milan will likely receive shows in October or November at the Mediolanum Forum (aka Forum di Assago).
U2Valencia have provided some
additional information
(in Spanish). They report a rumour that the European tour will visit the Palau Sant Jordi in Barcelona and the Palais Omnisports de Bercy in Paris during November 2015. The latter venue is currently under renovations but should reopen in October 2015. U2Valencia claim the tour's name will be the Volcano Tour but we have been unable to corroborate this report.
Remember, the North American tour is rumoured to begin in May 2015. If the claim on Interference that tickets will go on sale on 22 November is true, that suggests an official announcement is imminent. It may occur to coincide with U2's residency next week on Jimmy Fallon's TV show. We will have to wait and see. For now, catch up on tour speculation in our recent
compilation of rumours
.
Axver's Tour Predictions: All That You Can't Leave Behind
Alright, I've made you folks wait much too long for this edition of my series of tour predictions. So far, I have made predictions for:
Songs of Innocence
,
Boy, October
,
War, The Unforgettable Fire
,
The Joshua Tree
,
Rattle and Hum
,
Achtung Baby
,
Zooropa and Passengers
, and
Pop
. Now it's time to move on to an album that changed the trajectory of U2's career and ushered in a new approach to music and songwriting after a decade of experimentation and pushing boundaries.
ALL THAT YOU CAN'T LEAVE BEHIND
ATYCLB
has had pretty strong setlist representation over the last three tours. On
Elevation
, the tour promoting the album, literally every song was featured in some capacity – though in the case of "
When I Look at the World
" that meant one solitary snippet and "Grace" appeared only as taped outro music. Since then,
Vertigo
featured six
ATYCLB
songs and
360
had five – though the total performances of
ATYCLB
songs on 360 outweighed those on Vertigo. Furthermore, the album's representation early on both tours was weak and gradually grew as the tour went on. The album has become a big part of U2's history and the band see it as an important part of their legacy. Will this ensure it continues to enjoy strong representation?
Previous articles:
·
U2 will headline KROQ's Almost Acoustic Christmas
November 10th, 2014
·
U2 perform ''Every Breaking Wave'' at the EMAs
November 9th, 2014
·
U2 to perform at the MTV European Music Awards
November 8th, 2014
·
U2 to receive Bambi Award
November 5th, 2014
·
U2 to perform on Jimmy Fallon's show - for a whole week
November 4th, 2014
·
U2's next tour: what do we know? UPDATED
October 28th, 2014
·
U2 on Australia's 60 Minutes
October 26th, 2014
·
Bono and Edge on The Late Late Show
October 25th, 2014
·
Video of ''California'' live
October 25th, 2014
·
Wrap-up of today's U2 action
October 24th, 2014
For older news, see our Archive.