Bono and Edge at Carnegie Hall for World AIDS Day
Before the final two Paris shows close out the second leg of the Innocence + Experience tour, Bono and Edge took a little time out of their schedule to perform at a private event at Carnegie Hall in New York tonight: "A Night of Music: Celebrating 10 Years of ONE and (RED)". Tickets were not available to the general public, but thanks to Howard Wolfson, U2sJerseygirl, and GeraldoScreech on Twitter, all of whom were in attendance, we know what went down with Bono and Edge's participation.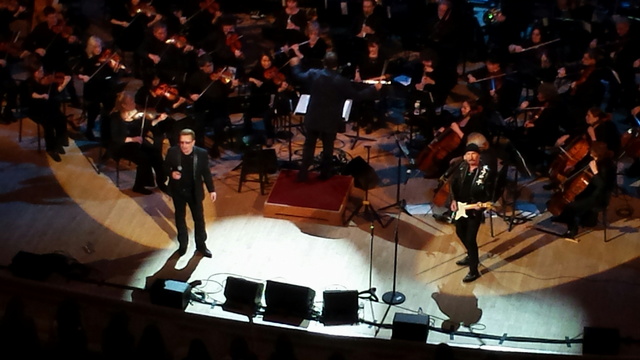 Photo by Laura.
Bono and Edge performed six songs and were joined by a variety of guests for their set. Bono began with a brief speech and then they played When Love Comes to Town, a song performed four times on the first leg of the tour and just five times since 1993. They were joined onstage by Irish musician Hozier for the performance. This was followed by Every Breaking Wave; unlike performances on the tour, which have consisted solely of Edge on piano with Bono's vocals, this rendition was more akin to those on the Songs of Innocence promotional tour as they were backed by a string section from the Orchestra of St. Luke's during the song.
The orchestra swelled to include th chorus group Orchestra Symphonique Kimbanquiste from the Congo for the next song, Stuck in a Moment You Can't Get Out Of. Edge remained on piano for this song and reverted to an electric guitar for the rest of the night. Angel of Harlem was next; though horns are present on the studio release of the song they have rarely been utilized in concert, though they were present in the performance tonight. This was followed by I Still Haven't Found What I'm Looking For, and the performance was closed off with a rendition of One. Miley Cyrus and Jessie J joined Bono and Edge for various points in the song. Bono sang the first verse, Jessie J the second, and Miley Cyrus came onstage for the third but appeared to forget the lyrics and Bono took over from the wings. The song ended with a now typical snippet of Invisible, and Bono closed the time onstage by thanking those in attendance for their work with ONE and (RED).
At this time there is little audio or video available of the event, and other details of what might have been said before, during, and after the performance are scant at this time, as are details on any of the usual snippets included. Nonetheless it seems like a fairly special time was had by all, with some unusual songs performed in some very special arrangements.
The full set was as follows:
When Love Comes To Town

(with

Hozier

)
All details for this show including reviews, videos and photos can be found
here
.
If you attended the show we ask you to share your concert review or photos with other site visitors. You can post your review of the show
here
and upload your pictures
here
.
Posted on by Matkin