@U2TourHans jeder wie er mag :-) Ich gehe auch lieber schlafen.
@Tony_Vos gate E3 looks best if you want to queue. Otherwise it does not really matter. Gates open is 4pm.
Btw, no people queuing at other gates so far.
Tunnels 2 and 3 will remain open then. Just had talk with some kind sec people.
There will be a 2nd beaker behind the catwalk tomorrow for 1900 people. Best gate should be E3. All 4 tunnels will be open the first minutes

There is already a queue in Frankfurt. #u2360frankfurt #u2 http://u2.gs/8t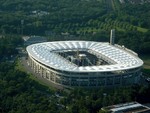 Stadium in Frankfurt as seen from airplane. #u2360frankfurt #u2 http://u2.gs/8s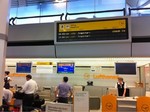 Follow U2 tours means countless hours waiting at Airports … #u2360frankfurt http://u2.gs/8r
Stage build progress animation Frankfurt, Germany, Commerzbank Arena http://u2.gs/ffmcam1 & http://u2.gs/ffmcam2 #u2 #u2360frankfurt